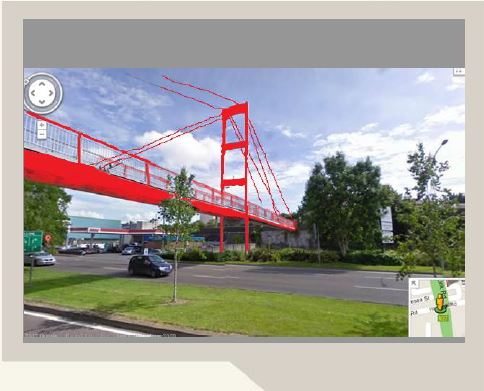 Cork and San Francisco has been twinned as sister cities since 1984, the history of cork and San Francisco goes back further than the Californian gold rush.
The objective of program is to celebrate this link by painting a bridge in cork the same color of the golden gate bridge additionally the selected bridge in cork provides a healthy  15 minute walk for the community which is a high impact and  high return from a low investment.

What the proposed bridge looks like today!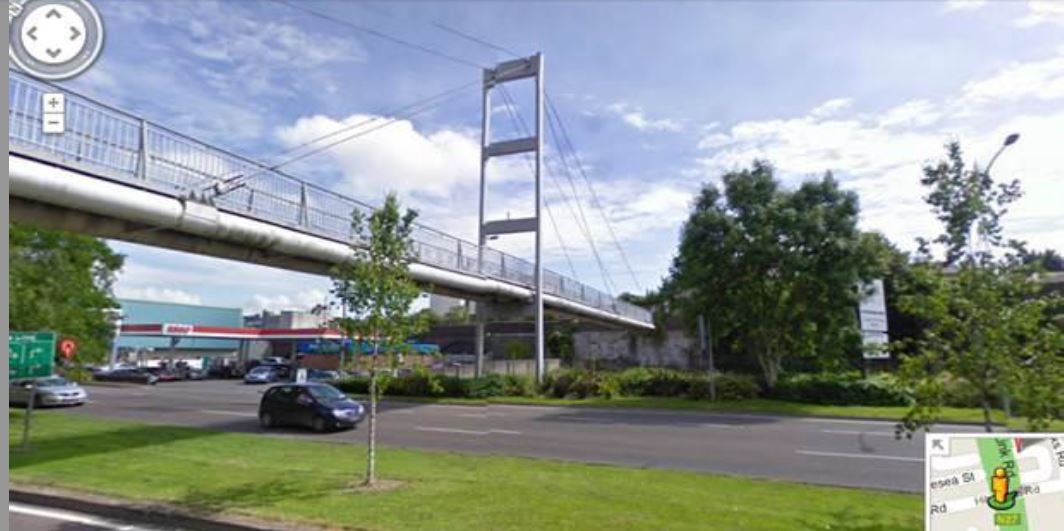 With a bit of Paint and some international support and encouragement and local community involvement it could look like this
 Its a fun project lets get it done today!
Opportunity of growing Overseas Visitors with Fun
Attractions
As indicated by Fáilte Ireland research, cultural attractions feature an important aspect of visitors planning and deciding trips. The growing numbers of visitors indicate that now is a great time for leadership and investment in the future of Corks Tourist attractions and features.
There is a great opportunity for Cork to use this proposal to drive and capture new regional revenues by attracting new visitors to the south west region by using this bridge as an attraction and launch platform for tourism groups this benefit  far outweigh the cost of painting the bridge. A broad range of new revenue producing entrant groups such as the following:
Hill walkers starting out here as they plan the trips over west cork mountains.
Hostel visitors and explorers on a low budget decide on cork as a result of the broad range of attractions.
Promoted groups, romance visitors and special events
Bridge enthusiasts just like train spotters and bird watchers they travel everywhere.
New York and east coast visitor's  (New York is 5 hours away almost closer than San Francisco and get to Ireland and get to see the Cork Golden Gate Bridge also a great promotional opportunity)
UK and euros weekender and holiday makers are curious about this San Francisco feature in Cork and why let's go check it out and spend some time and money in this great place called Cork.
Events and promotions drawing and attracting visitors using social media campaigns and low cost marketing and advertising will practically and undoubted make this investment a very prudent and timely investment with a feasible 5 years turn around.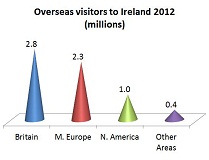 The estimated opportunity is large during difficult economic times and the return on investment of 80k for painting the bridge is far superseded by the revenue capture and growth by developing such a proposal.
In 2011 (Fáilte Ireland)
416 million total euros captured in revenue from visitors to Cork,
144 million euros from Britain and 91 million euros in revenue came from North America
Don't you think those incremental increases as a result of spending 80k and marketing budget with the organizations above directly resulting in a conservative INCREASE OF 5% overall would result in increased revenue of 2 million euros for Cork Or a 5% increased revenue in Corks visitors form North America revenue would create  4.5 million increase for Corks local economy.  That's prosperity created as a result of innovation co-operation and leadership, just because the bridge was painted a few years ago doesn't matter it's now time to create a long term plan to get this proposal completed.
Projected visitors to the Cork Golden gate bridge for 5 years.
| | | | | | | |
| --- | --- | --- | --- | --- | --- | --- |
|   |   | 2014 | 2015 | 2016 | 2017 | 2018 |
| Cork Golden Gate Bridge | Cork | 36500 | 54750 | 73000 | 109500 | 146000 |
External References sources
Fáilte Ireland:http://www.failteireland.ie/Research-Insights.aspx#searchtext=&
The Dubline discovery trail new innovation http://www.failteireland.ie/Develop-Your-Business/Key-Projects-Carousels/Dublin-Heritage-Trail.aspx
Fáilte Ireland wants to increase the number of American visitors Tourism Ireland wants to increase US visitors by one-fifth by 2015
Visitors to Ireland in 2009-2012 http://www.failteireland.ie/FailteIreland/media/WebsiteStructure/Documents/3_Research_Insights/3_General_SurveysReports/Overseas_visitors_January-December_2012-1.pdf
Culture and heritage tourism…an emerging economic engine http://www.failteireland.ie/News-Features/News-Library/Culture-and-heritage-tourism%E2%80%A6an-emerging-economic.aspx
Tourist attractions
http://en.wikipedia.org/wiki/Tourist_attraction
click here to view the pdf brochure on the cork golden gate proposal
While initially reviewing Ireland and Hawaii the two geographies appear to not have much in common particularly when it comes to weather however upon closer examination the connections between the two become more obvious and deserve to be promoted, nourished and developed. click on the photo or links to learn more.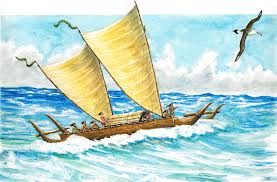 Subscribe by selecting a delivery method below:

Subscribe in a reader
Free RSS Subscription